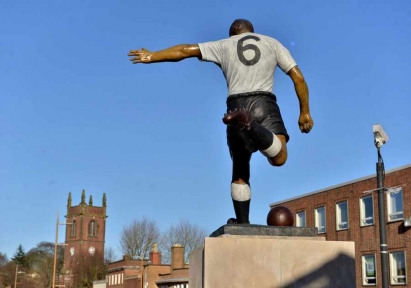 S
trong in the arms, strong in the hands; Black Country born, Black Country bred. Duncan Edwards was born on 1st of October 1936 to Gladstone Edwards and Sarah Edwards in Dudley,West Midlands. He was the first child of GladstoneEdwards and SarahEdwards and their only child to survive to adulthood, his younger sister Carol Anne dying in 1947 at the age of 14 weeks. Iron foundries and forges provided the main source of employment for the local work force. The area resounded with a permanent drone of working hammers and the sky was dulled by the thick glooms of smoke. Hence, the area was known as the 'Black Country'.
Edwards attended Priory Primary School from 1941 to 1948, and Wolverhampton Street Secondary School from 1948 to 1952. Football offered an escape route from the back breaking routine of manual labour and young Duncan quickly proved to be a natural of the beautiful game. He played football for his school as well as for Dudley Schools, Worcestershire and Birmingham and District teams, and also represented his school at morris dancing. From a very young age, it was evident that Duncan had the kind of dedication needed to reach the pinnacle in any sport. He would spend hours on practicing his skills at a nearby park perfecting the blend of technique and power that would one day electrify crowds from Manchester to Madrid.
On 10th December, 1951 Duncan Edward's wrote an essay in school. It clearly shows how close he was to realizing his childhood dream.
"Well, it all began when I was a little boy of about 7 years of age. I heard my father talking about a place by the name of Wembley stadium. It was a wet day in April and my Uncle George and dad were sitting around the fire. And my Uncle George said to my father, "I see England are playing Scotland at Wembley next Saturday." "Are they?" my father replied. I thought to myself now is my chance to ask them, where this Wembley stadium is while they are on the subject. So I turned to my uncle and asked him where this stadium was and he replied – "Duncan, this stadium as you call it is the third biggest football stadium in the world and situated in London. I told my uncle," I wish, I could go there." And he said I would before long. I was 13 and I still wanted to go to Wembley and on the 1st of April, I was picked to play for England against Wales at Wembley stadium.
My uncle was right when he said I would someday go to Wembley stadium.
I had the privilege of playing with Duncan in 1951-52 for the local school team. The first thing that I noticed about Duncan was that he was so big and so broad and so good at the game of football. His ball control and everything was amazing. He was just a born leader. He played like a professional football player amongst the other boys. – Fred Brookes (Childhood friend of Duncan Edwards)

I knew Duncan when he was around the age of 8, 9, 10 or 11. When he was playing school football, he was an outstanding player. With Duncan Edwards, it wasn't the case of playing football for the schools and all the organized football events. Duncan would play football with anyone and anywhere. Wherever there was a ball, Duncan Edwards was there. – Councilor Ken Finch.
Duncan was also offered a trial for the English Schools Football Association's under-14 team. He impressed the selectors and was chosen to play for the English Schools XI, making his debut against Wales at Wembley Stadium on 1 April 1950. Later on after his impressive performances, he was appointed as the captain of the team, a position which he held for two consecutive seasons. By this stage, he had already attracted the attention of major clubs; with Manchester United scout Jack O'Brien reporting back to manager Matt Busby in 1948 that he had "today seen a 12-year-old schoolboy who merits special watching. His name is Duncan Edwards, of Dudley".
Duncan played for England schoolboys for 3 years consecutive years starting from 1950 and became the skipper of the English side. Everyone wanted to know more about this new English wonderkid who had emerged from the beautiful Black Country. Many teams wanted to sign Duncan. Everton, Blackpool and Manchester United were interested in bringing the little gentle giant into their teams.
Joe Mercer, who was then coaching the England schools team, urged Matt Busby to sign Edwards.
My son, it's your life. You go, where you want to go. – Sarah Anne (Duncan's mother).
His friends wanted Duncan to join Wolverhampton Wanderers. But after listening to his mother's statement, Duncan went straight from school to Manchester United.
The morning after Duncan's 16th birthday, the 2nd of October 1952 at 2.00 A.M, Duncan signed for Manchester United. The nucleus of the legendary 'Busby Babes' was now in its place.
Once Edwards had joined Manchester United he was introduced into the youth team and helped them
win the prestigious F.A. Youth Cup in his first season. Duncan Edwards started his senior career as a Manchester United player, on an Easter Monday in the year 1953 when he played against Cardiff City at Old Trafford in his debut match for the Red Devils. He was just 16-years-old at that time.
By the mid-50s, United manger Sir Matt Busby and his right hand man, coach Jimmy Murphy were close to creating their young, powerful and fast dream team. With players like Harry Gregg, Bill Foulkes, Roger Byrne, Eddie Colman, Mark Jones, Bill Whelan, Jackie Blanchflower, Dennis Viollet, Duncan Edwards, Tommy Taylor, Bobby Charlton, Albert Scanlon it was certain, that these players were the upcoming legends of Old Trafford in the future. The team had pace, power and technique. It was a very young team and very successful after silencing the critics who once said that Manchester United would win NOTHING with a bunch of kids.
As Duncan's Manchester United career began to take off he began to impress the England selectors more and more, with his mature performances and was eventually called up to the England B team to take on their West German counterparts in March 1955. Although he did not have the best of games, the youngster was drafted in to the full England team a week later, making his debut in a 7-2 thrashing of Scotland on 2 April 1955 in the British Home Championship. Edwards' appearance in game aged 18 years 183 days meant he became England's youngest ever post war player, a record that stood for more than 40 years, until Michael Owen broke it by 124 days in a friendly against Chile in February 1998.
When the England players saw Duncan dribbling away, they used to shout – ALL THE WAY, DUNCAN! – Sir Walter Winterbottom (England manager 1946 – 1962).
Duncan Edwards was known for playing as a defensive midfielder. But, as time passed by, he grew more used the out-field positions and could play anywhere on the pitch. He would sometimes play as a midfielder, and sometimes he also played as a striker. In other words, he was a very adaptive and versatile player. He had the capability to adapt to the surroundings, no matter how the pitch was. Whether it was a wet day, whether it was a sunny day, or whether it was a cold day, Duncan would never let his team down. He had a great stamina which played a huge part in those amazing surging runs which he used to make from his half of the field to the oppositions penalty area. Using his physical strength to put opposition players out of his way was his habit. His imposing physique earned him the nicknames "Big Dunc" and "The Tank", and he has been ranked amongst the toughest players of all time.
Edwards was also very good while performing defensive duties. He was noted for his timed tackles and powerful passes and clearances. In addition to this, he could pass and shoot with both his feet, with the same amount of power, and same accuracy which was a unique quality.
He was a shy and modest man with a bit of sense of humour. He was a 'Gentle Giant'. I rarely saw him lose his temper. Duncan had everything. I'll describe him as the complete all-rounder because when he had the ball, he was our best attacker. He could hit long passes, short passes, he could dribble. He was very nippy on his feet. He was also tremendous in the air. When the ball used to come in with speed he used to control it with his chest and when it dropped to his feet, he made things happen for Manchester United at all levels. Where he was better than the other players was, when the team lost the ball. He was the first to get it back. I haven't seen anyone giving Duncan a chase. Nobody went past him. Everything stopped at Duncan Edwards. – Wilf McGuinness (Former Manchester United player and manager).
Duncan's popularity spans generations. He was a teetotaler and outside football was known as a very private individual, whose interests included fishing, playing cards and visiting the cinema. Although he attended dances with his team-mates he was never confident in social surroundings. He was described by Jimmy Murphy as an "unspoilt boy" and retained a strong Black Country accent which his team-mates would impersonate.
Just when it seemed that Duncan Edwards and the rest of the Busby Babes were about to enter the period of total domination in the world of football, the unthinkable happened on the 6th of February, 1958 in Munich, Germany.
While the dream team of Manchester United was returning from Belgrade, after a 3-3 draw against Red Star which saw United go into the semi-finals of the European Cup, they had to make an unscheduled stop in Munich in order to re-fuel the air-craft. There was slush on the runway and the climatic conditions were very bad. The plane tried to take off twice, but failed to do so. On the third attempt, tragedy struck. In a blink of an eye, the best team that the world had ever seen was no more. 7 of the babes and 14 other passengers perished on the spot, while Duncan Edwards was rushed to the Rechts der Isar Hospital, with serious leg injuries, fractured ribs and extensively damaged kidneys. After serious complications with his damaged kidneys, Edwards began to bleed internally.
And on the 21st of February 1958, 15 days after the fatal air tragedy, Duncan Edwards bid the world farewell as he passed away quietly in his sleep. He was just 21-years-old.
He would've been the greatest player ever, make no mistake about that at all. Pele, Cruyff, Beckenbauer, George Best all fantastic players, but I think Duncan would have surpassed them all. – Tommy Docherty (former Manchester United manager)
"The last game he (Duncan Edwards) played was at Red Star Belgrade and he just ran the show. He ran the whole game and he was unbelievable. The field was quite muddy and he had this ability that the mud didn't make any difference in his passes. He used to skim the ball over the top of the mud with great power. We were all struggling in the mud, but for Duncan it did not make any difference. He had everything and he was a perfect player. I've never seen a perfect player since then." – Bill Foulkes.
He (Sir Matt Busby) tried to get another team like them (Busby Babes), but he couldn't. He just couldn't get another team like them. – Sarah Anne (Duncan's Mother).
Duncan's body was brought back home to England on the 22nd of February, 1958 and later on the 26th of February, his body was buried at the Dudley cemetery, Worcestershire, an occasion that drew more than 5,000 mourners.
Edwards' is commemorated in a number of ways in his home town of Dudley. A stained-glass window depicting the player, designed by Francis Skeat, was unveiled in St Francis's Church, the parish church for the Priory Estate, by Matt Busby in 1961, and a statue in the town centre was dedicated by his mother and Bobby Charlton in 1999. In 1993, a cul-de-sac of housing association homes near to the cemetery in which he is buried was named "Duncan Edwards Close". The Wren's Nest pub on the Priory Estate, near where he grew up, was renamed "The Duncan Edwards" in honour of him in 2001, but it closed within five years and was subsequently destroyed by arsonists. In 2006, a £100,000 games facility was opened in Priory Park, where Edwards often played as a boy, in his memory. In 2008, Dudley's southern bypass was renamed 'Duncan Edwards Way' in his memory. A housing complex called Duncan Edwards Court exists in Manchester, among a network of streets, named after his fellow Munich victims, including Eddie Colman, Roger Byrne and Tommy Taylor. In 1996, he was one of five players chosen to appear on British stamps issued as part of a "Football Legends" set issued to commemorate the UEFA Euro 1996 tournament.
Contemporaries of Edwards have been unstinting in their praise of his abilities. Bobby Charlton described him as "the only player that made me feel inferior" and said his death was "the biggest single tragedy ever to happen to Manchester United and English football". Terry Venables claimed that, had he lived, it would have been Edwards, not Bobby Moore, who lifted the World Cup trophy as England captain in 1966. In recognition of his talents Edwards was made an inaugural inductee to the English Football Hall of Fame in 2002.
Eric Cantona was a brilliant player, but he couldn't do what Duncan Edwards used to do. – Bill Foulkes.
Even after he has left us, Duncan's memory still lives on in his beloved home town of Dudley. 40 years after his untimely and shocking death he is remembered at his local church. His resting place (the place where Edwards is buried) is a shrine hundreds of visitors each year. People come from around the globe to admire and pay respect to this great lad who once played the game of football such, that no one has been able to emulate it till today.
If I had to play for my life and could take one man with me, it would be Duncan Edwards. – Sir Bobby Charlton.
On February 6th, 1958 on a snowy runway in Munich, a dream may have died, a team may have died. But, the memory lives on, FOREVER……